When I write about weaning, I am referring to the period of time when a baby transitions from breast milk or formula to a diet that includes solid foods, as well. I love and dread questions about weaning. It is a fun topic because of what a pivotal time it is for babies and their parents. However, there is so much conflicting science about when to start feeding and so little science about what to start feeding those babies with, along with a whole lot of mythology.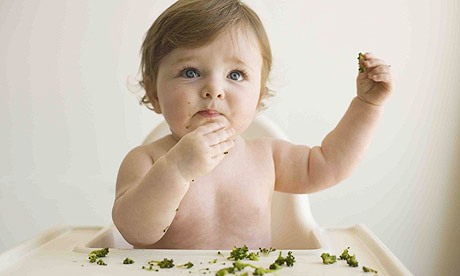 When...
The CDC and WHO are now recommending that the optimum approach for babies is to consume breastmilk solely (whenever possible) for six months, and then solids and breastmilk together after six months. There is a lot of data suggesting that waiting till six months to introduce solids decreases rates of reflux, gastric distress, diarrhea and more. There is some data that suggests waiting till six months might increase asthma, decrease mouth/tongue agility and limit food acceptance. There are many more studies that have findings promoting waiting till six months and the veracity of these studies does tend to be stronger.
In my own practice, I encourage parents to wait. My thinking has actually never been to conform to the research but to listen to the babies and our own (buried) parental instincts. This is a divergence from my science background; but after three children I learned that babies had something to say about when they should start eating solids. Kid number two watch his big sister sitting, eating, and using utensils. When he was five months old, he was no longer content to be left out of the dinner table. He howled till we seated him at the table and then he took the food from his sister's hand.
There are cues that babies provide us to let us know they are ready. They demand to join in at the table, they grab at your mouth when you are eating, they grab at the food, or they take the food from your hand. These are not subtle cues and they might happen between 4 and 8 months of age. When they are physically able to give you the cues, they are physically able to start solids.
What...
The great thing about waiting till you have a ready baby is they are mature enough to sit, put hand to mouth and they are ready to feed themselves. Purees, ice cube trays, sterilizers (the worst for nutrient retention), food jars, spooning food into baby's mouths should all be tossed out. These items cheat the babies out of a lot of potential learning.
There is not a lot of data in this field but what is out there is clear and convincing.
Babies should be feeding themselves
. Spoon feeding or pureed foods can delay chewing skills, create picky eaters, limit hand control, and increase overeating. Research shows among 6 month olds that are left to eat on their own they develop better hand agility, the are less picky when the are older and they have fewer issues with constipation.
Hand and chewing agility is not too surprising. But being a less picky eater later in life is a very interesting association. Perhaps purees are fairly unnatural in terms of what real food tastes like. Purees make our taste experience uniform. Real food is not uniform. It physically has bumps, lumps and bits but also taste-wise real food varies with each bite. Perhaps starting with real food lets kids be comfortable with the variability foods offer with each bite.
Less constipation is perhaps related to also overeating. Letting the babies be the drivers means they dictate when they need to drink and when they are full. They are not cajoled by a parent or an airplane spoon to eat more. Their bodies dictate the amount of liquid and the amount of solids they want, which is the amount they need. There is no need to check a volume amount.
Bottom Line... let the Babies tell you when they are ready, provide them with healthy finger foods of mostly vegetables and eventually proteins, and let them do the feeding. And enjoy watching them discover a big, new part of the world.